Via
Think Progress
, White House Press Secretary Pony Blow had this to say:
BLITZER: Is that true? Are you getting ready for war with Iran?

SNOW: No. And furthermore, I — Wolf, I am at a total loss to find any place where this administration has been trying to, quote, "create a run-up with a war on Iran." It is interesting to me that

it seems that some politicians maybe are trying to protect Iran

.
Since he didn't name any politicians that are trying to protect Iran, I'm choosing my own: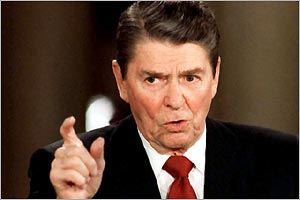 In related news,
MyDD
(via Atrios) comes up with this new quote from Hillary Clinton:
Clinton also sought to draw a contrast with some of her Democratic rivals on the issue of terrorism. "

Some people may be running who may tell you that we don't face a real threat from terrorism

," she said. "I am not one of those."
Since Clinton doesn't name any of these people who say we don't face a real threat from terrorism, I am once again forced to find them myself:
Q But don't you believe that the threat that bin Laden posed won't truly be eliminated until he is found either dead or alive?

THE PRESIDENT: Well, as I say, we haven't heard much from him. And I wouldn't necessarily say he's at the center of any command structure. And, again, I don't know where he is. I -- I'll repeat what I said. I truly am not that concerned about him.
I don't trust the little girl either. Just sayin.